Long Range Fish Report
From American Angler Sportfishing
Fish Report for 7-29-2014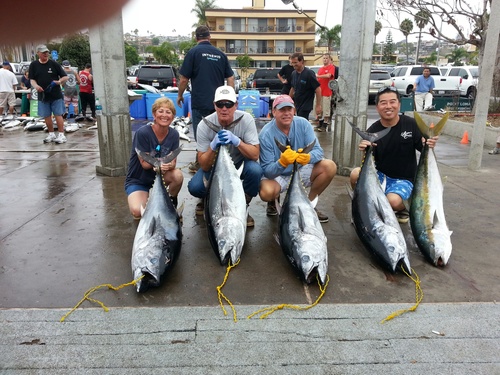 "We returned this morning from our Anglers Choice six-day trip," reported skipper Kevin Osborne July 26. Thanks Luc for a great trip. Jackpot winners: Luc Ofield with a 74.8-pound Bluefin Tuna and a 42-pound Yellowtail; Mike Armstrong with a 71-pound Bluefin Tuna and Darrell Pickford with a 65-pound Bluefin Tuna. Honorable mention goes to Barbara Sebastian for her 75-pound Bluefin Tuna.

The next day, he posted, "We departed yesterday with our annual Nor-Cal Tuna Club group and the fun began right away as CM Doug Inyo held a huge raffle of great items as we headed back out west to fish for Tuna. Got on a small school of mixed BFT & YFT to get things rolling. We shut down on a school in the dark last night, boating one. Woke up this morning and have been drifting all morning long with BFT's from school grade up to 35 pounds, a decent start to the trip."

On July 28, Osborne posted, "We made a good start to the trip on the Bluefin out west with 66 of the nice Tuna and 10 Yellowfin mixed in as well. It was a bit of a challenge as we would locate some schools that would stick around and bite for a while and others that would not react at all. In the afternoon we found a school of the better grade Tuna from 40 to 70 pounds and only boated a few, but the guys lost just as many with the lighter gear you needed to entice a bite. The weather is very nice and the sign of fish around is keeping us here looking for a school of big ones! It sounds like there is good fishing going on in several areas right now, so get out here and get you some."

Above The Line
Red Rooster III skipper Derek Waldman posted July 25: "With the closure of Bluefin tuna in Mexico we are starting our trip above the line in US waters. This is the first of a string of five-day trips starting with Bluefin Jim's annual trip.

"We found a kelp late that provided action on smaller grade yellowfin and bluefin . We were stoked to be drifting into sunset with 40 mixed tuna and a couple of Dorado. So far this morning just a few bluefin but nice weather."

Skipper Andy Cates posted July 27: "Pretty tough day all in all but we did have one stop where we hooked four and picked off three of these nice 80 to 100-pound fish. Chris, Corey and Bob were the successful anglers with the jackpot contenders. We had a couple other drifts but really not much to mention. Tomorrow we will be fishing yellows in Mexican waters. We spent the day up above today and it looks like the rest of the trip will be in Mexico."

Out Of The Gate
Royal Star captain Randy Toussaint wrote July 26: "We started off our annual Floyd Abbott seven-day in US waters this afternoon with beautiful flat calm seas. The fish were a bit reluctant to bite but we managed a respectable score of 32 mixed grade bluefin tuna and eight yellowfin. We are spending the night here, hoping the bigger grade make a showing tomorrow."

"The next day Toussaint wrote: We looked at plenty of schools of bluefin in flat calm weather today but getting them to bite was a struggle. Typical of bluefin, they usually don't bite with reckless abandon for long but we still managed to put together a good day. "We are traveling down tonight and will fish offshore again tomorrow. Don Van Dyke is in today's shot with a nice bluefin taken on scratch gear."

Found Awesome Fishing
Searcher skipper Aaron Remy wrote July 26: "The fishing was awesome today and the weather was very calm, almost no wind all day long and the forecast looks good, too. We had a very good mix of yellowfin tuna, bluefin tuna and some yellowtail, most of the day fishing in US waters. We're going for fish tomorrow again, so wish us luck.

"Tip of the day: Using circle hooks, especially fishing for bluefin, are crucial. It took a little convincing for people to use them after they were getting bit off. Here's a sample of some tuna caught by father and son Joe and Troy Jacques of Hemet."

Surprising Little Bulls
Jonathan Roldan reported for the La Paz area last week: "With the exception of another of those surprise "torito" (little bull) storms that popped up on Thursday, it was a pretty good week of fishing for the most part.

This time of year, waters are extremely warm, actually, warmer than usual, as a result of the "El Nino" situation. This has given rise to rapidly forming storms that are not shown on weather advisories in the morning.??However, out of seemingly clear skies, huge thunderheads suddenly build and the skies grow dark within minutes...as the rains hit and everyone hunkers down, that's pretty much all you can do. There's a reason they call these "little bulls." ??Within an hour or two, sometimes in the span of minutes, it's over. ??The sun blazes back out. The winds turn off. The skies go clear and flat. Except for puddles of water, there's no trace. And that's what happened Thursday morning. But the rest of the week was pretty grand!

Las Arenas
"Fishing definitely improved over the week before. Again, dorado were center stage, but there were fewer punk five-pound dorado and more respectable 10 to 20 pounders and all willing to charge pretty much water was in the water. One of the big problems is that the baits we have tend to be large.??Hence, it takes longer than normal for the fish to really chomp the bait and get a hook down in their mouths. Anxious anglers would often tell me they pulled the trigger too soon before the dorado could eat and they would lose the hook-set and half-a-bait would come flying back to the boat, sans dorado!"

La Paz
"Our La Paz boats rocked some really nice 20 to 40-pound fish this week as they have now since June. The fish extend right from La Paz Bay towards Espirito Santo Island then around the corner to about El Rosario/ Las Cruces where the larger bulls seem to have taken residence not too far from the beach. Co-incidentally, that's where large schools of baitfish have been seen. We also got some roosterfish off the beaches.

"The bigger news is the increased incidence of hookups with billfish including larger-than-normal sailfish and even some blue marlin.??I don't remember seeing so many hookups on blue marlin as I have the past two or three weeks. Most of the sails and marlin are getting released, but one fish that couldn't be released was a hefty 300-pound blue.

Everything Hot At East Cape
"Water - The water temps are right around 87 degrees.
"Air - Just like our fishing ... very hot!


"The Environment: We are deep into a hot summer and, like every other Baja summer, the days can be really warm now. Fortunately, the afternoon breezes keep things a little more comfortable. Good bait is available thanks to our new bait guys who are doing a great job. Unfortunately, sardina still remain scarce, which mattered little until the tuna would eat nothing else. Some bait boats have sardinas in small numbers, but are tough to get.


"The Bottom Line: A solid 8.5 on the Rancho Leonero 1 to 10 scale.


"Billfish - The blue marlin bite continues to lead the billfish news. Rancho boats found good fish all week in most areas. Fish were caught outside as well as close to shore from Cerralvo to Los Frailes. Striped marlin are around in moderate numbers and sails are plentiful. Blues all were caught on lures while stripers and sails split between ballyhoo and caballitos. 


"Yellowfin Tuna - Good fish all week with the biggest weighing in at 70-pounds. The free-swimming school down at Los Frailes was producing fish of about 40-pounds all week. Chumming and soaking sardinas was the only successful way. Some boats chose to go outside and scout for porpoise, which proved very successful. Fish from 30 to 70-pounds were taken in good numbers; all on hoochies and cedar plugs.
"Dorado - The fish appeared to be slightly bigger this week, 10 to 20-pounders with a few whoppers out in the open water. Again, the fish are spread all over the East Cape with no specific hot spot. 

 "Meanwhile, Back at the Ranch - Inshore fishing continued to provide a true bouillabaisse of pargo, amberjacks and roosterfish. Additionally, some boats also picked off wahoo, with the biggest right around 50 pounds."


< Previous Report
Next Report >
More Reports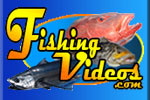 7-20-2014
Baja paddy hoppers departed on Saturday with a great load of sardines and lots of eager fisherman aboard. Opting to......
Read More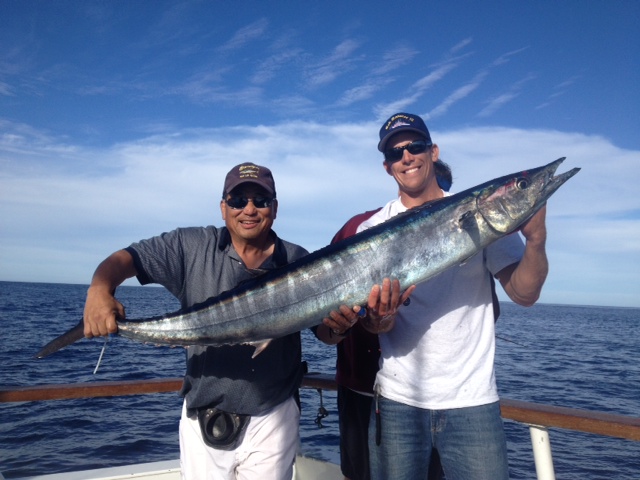 12-20-2013
"We had a good day today. We ended up with just over 80 tuna and a nice wahoo. A lot......
Read More
LongRangeSportfishing.net © 2021. All Rights Reserved.
Website Hosting and Design provided by TECK.net